The province expects about 80,000 more students, a 32 per cent increase, will be eligible for transportation to school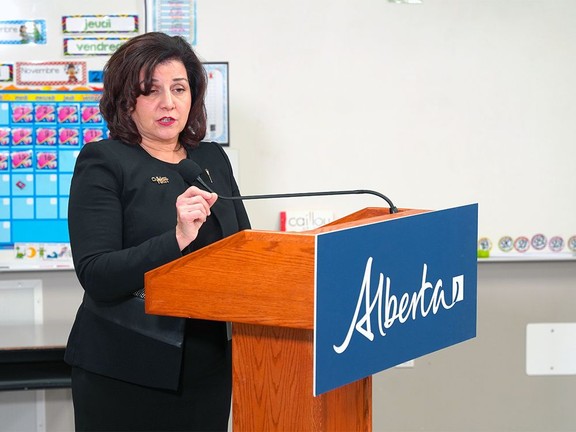 Article content
The Alberta government is lowering the distance requirement for students to be able to access school transportation and providing funding for those attending alternative and private schools.
Article content
Currently, students must live at least 2.4 kilometers from their designated school to access busing. But with the changes to the funding manual for school authorities, announced Thursday by Education Minister Adriana LaGrange, the distance will be lowered to one kilometer for students in Grades 1 to 6 and two kilometers for Grades 7 to 12 students beginning in September 2024.
Article content
The province expects about 80,000 more students, a 32 per cent increase, will be eligible for transportation to school.
The changes are being funded through $414 million over three years announced in Budget 2023.
LaGrange, speaking at John G. Diefenbaker High School in Calgary, said work from the student transportation task force, put together in 2019, outlined that the distance was too long.
Article content
"We're expecting little grade one-ers, grade two-ers to be walking 2.4 kilometers and oftentimes that distance was calculated by, I'll put it, as the crow flies, or the quickest walk path," LaGrange said. "Sometimes it was through a ravine, sometimes it was across a busy highway and parents were concerned about safety, as were all of us."
Now the distance will be calculated by the quickest driving route.
About 47,000 students are currently paying a fee to use bus services and will become eligible for provincial support as a result of the changes. This means about 13,000 would need to be accommodated on new routes, prompting the addition of about 250 drivers.
The updated model also provides funding for students who are transported to a school of choice including alternative programs and private schools, for the first time. Private schools that offer transportation for Grades 1 to 12 will be funded at 70 per cent of the urban or rural public rate.
Article content
Proposed Alberta omnibus bill to put $4 million towards adoption benefits

The Lieutenant governor's remarks on the Alberta Sovereignty Act drew the Governor General's concern: 'Secret' briefing document
LaGrange said transportation has often been a barrier to parents being able to choose their child's education.
"When parents are having to pay higher and higher fees, we want to make sure that all families right across Alberta are able to access the transportation they need to get to school and don't have a cost barrier," she said.
The funding also includes a grant for the continuation of the fuel price contingency program and funding for school boards to hire, train and recruit new school bus drivers.
The province is also offering a new grant to provide funding for home-schooling kindergarteners. The home education kindergarten pilot will have $2 million applied to public and private schools, providing home education funding for the one-year pilot for children in early childhood services.
Article content
The province will provide $901 per student to the supervising school authority to support home education for kindergarten children. Up to $450.50 of that funding will reimburse the parent or guardian for instructional materials and resources that support the educational program at home, while the other half will support teacher visits to the home.
"(Parents) want to have access to the resources and support that other parents have when they make the choice to send their children to kindergarten," LaGrange said. "We're really providing equity across the system for those parents who would like to choose kindergarten in home education."
Also recently announced is the classroom complexity grant, which will provide $42 million for the 2023-24 year to school boards to add more support staff such as educational assistants, increase the hours of existing educational assistant positions or provide more training for staff or hiring specialists such as counselors, psychologists, and interpreters and hire more teachers.
At least 80 per cent of the grant has to be spent on frontline support and up to 20 per cent can be spent on training.